Nika Eshetu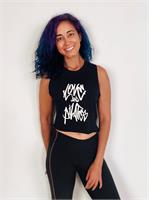 Nika Eshetu has a laser-like focus when it comes to what your body needs in classes and private sessions, and a strong yet gentile approach to getting you there. She is also a Certified Personal Trainer, Master Instructor for the Evidence Based Fitness Academy, Golf Fitness Specialist, and Neurokinetic Therapy Certified.
She loves being "sneaky tough" in her teaching through making you work hard and sweat in what seems like an easy exercise, though we know pilates is never "easy".
Nika Eshetu is currently not instructing any classes.