Roxanne Saldana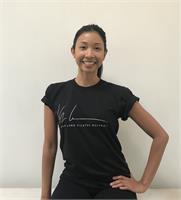 Roxanne's path in Pilates sprung from her love for dance. A classically trained ballerina for 8 years, she performed with the Philippines' most prestigious ballet company, Ballet Manila.
She later took Pilates to enhance the strength and artistry of her craft, and later saw that her weekly sessions had not only significantly accelerated her dancing career, but had also given
her a sense of well-being in mind, body, and spirit that she couldn't find in any other fitness routine.
Roxanne Saldana instructs the following:
Soft and gentle when needed but builds into an incredibly effective full body workout. We focus on precision and alignment at a strong slow burn and deliberate pace. Great for beginners, clients new to pilates or those seeking an instructional core-focused workout. Experts welcome, you'll be challenged!