Kate Beahan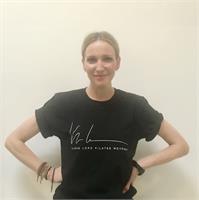 Born and raised in Australia, Kate seems to think a cup of tea makes everything better and considers the reformer to be her "happy place".
Kate began taking Pilates to find relief from a chronic neck injury and was ultimately so amazed by the positive changes she felt, and the way in which Pilates completely reshaped her body, she studied to become a teacher through Polestar Pilates.
Kate is passionate about delivering a fun workout that will leave you feeling long, lithe, empowered and super toned.
She believes everyone can do Pilates and welcomes all levels into her classes. She also loves seeing the incredible changes in people's bodies, confidence and wellbeing through Pilates.
She also loves prepping Mama's bodies for birth, Motherhood and post birth recovery.
Kate is known for her warmth and sense of humor and for making cues and commands sound a bit like polite invitations (when they probably aren't).
Kate Beahan instructs the following:
Your pilates playdate with a tough love twist. This all-level class focuses on pilates fundamentals with a keen eye for great alignment and solid pace. Movement will be varied and upbeat, beginners will be guided, advanced clients will be challenged. Modifications will be given when needed. All will feel a balanced, full body workout.