Karen Lord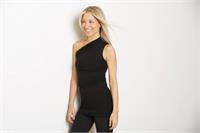 Karen Lord is the owner of and trainer at Karen Lord Pilates Movement.
Karen is passionate about Pilates, the mind/ body connection, wellness, emotional anatomy and bringing Pilates to the masses- working closely with clients of all populations including professional athletes, models, actors, mothers and fathers to be and cancer survivors.
Karen is a lover of people and movement, driven by change and personal evolution and is thrilled to be sharing our movement with you!
Karen Lord instructs the following:
Love and Pilates
Signature KLPM class. In this tough love power hour reformer class, you'll sculpt a stronger body, up your pilates game and take your body to the next level with small and mighty movements. In this fun and advanced class, you'll better connect your mind and body through mindful movements, breath work and abs, abs, abs. You will feel the burn as we build, breathe, flow, stretch, laugh and embark on a 55 minute full body pilates journey. Deliberately paced and challenging, this class is not for beginners. Bring your fun and positivity!